Wasafiri empowering food systems transformation leaders in Rwanda
The African Food Fellowship initiative which is empowering a dedicated network of food systems leaders across Africa, launches the Rwanda Food Fellowship.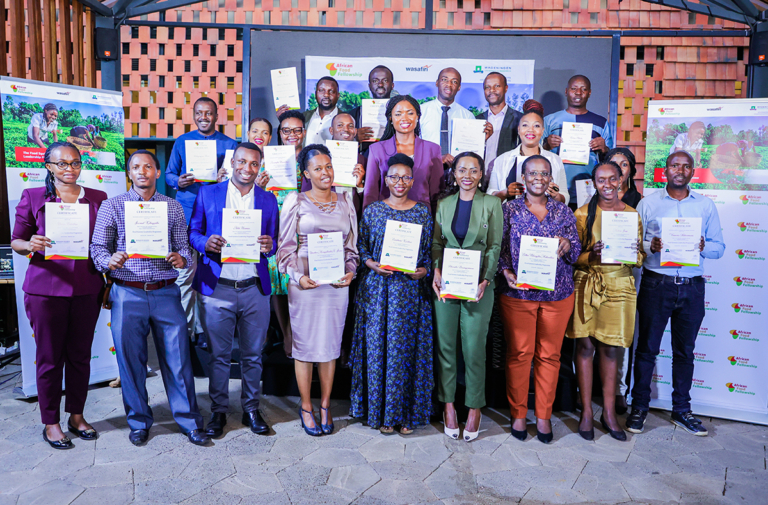 Lots of promise during the showcasing event
The African Food Fellowship officially established its roots in Rwanda last week during a lively, engaging and activity-packed event held at Norrsken Kigali House, Kigali. Attendees included representatives from the Fellowship's faculty, a representative from Rwanda's Ministry of Agriculture, Mr. Jean Claude Ndorimana who is the Advisor to the Minister, and of course, the thrilled fellows and their equally thrilled guests.
Representing three impact areas: Access to Nutritious Food, Sustainable Land Use, and Food Entrepreneurship, Rwanda's first cohort of fellows showcased their systems initiatives under the backdrop of an exciting, creative, and insightful session.
Rwanda Implementation Lead and Dean, Anysie Ishimwe was left hopeful and inspired. "The systems initiatives showcase was an opportunity for fellows to share with their guests and each other the opportunities and challenges they are encountering on their journey. Their initiatives are very promising as they entail solutions with the potential to bring out system-wide change" she said.
"One of our fellows, Janvier Ahimanishyize, is working on digitising existing farmer extension guides so that farmers can access needed information using a USSD code and another fellow, Alexis Rutangengwa, from National Land Authority, leveraged his team to work on a district-level land use plan using in-house expertise. He has been tasked to do the same for country-wide districts by the aforementioned institution", she added.
The event also marked the launch of the Rwanda Food Fellowship and for the Fellows, the beginning of a lifelong leadership journey towards more inclusive, sustainable, and healthy food systems for Rwanda and for the continent; a challenge they now feel they have the tools to take on.
The African Food Fellowship aims to catalyse a continental network of national chapters working towards common principles and to be a one-stop shop for food systems knowledge and action support. This launch marks an important next step in realising that vision.
The Rwanda Food Fellowship will continue to foster a community that will inspire informed and influential peer connectivity, spur action and actionable ideas, and offer a forum for Africa-focused and collaborative solutions.
Echoing the words of Dean Anysie Ishimwe, "today is the beginning of an even longer and more exciting journey of collaboration towards the transformation of Rwanda's food systems, and as our inaugural cohort you have a unique opportunity to leverage and shape this network, as well as pave the way for those who will join you from future cohorts."
For Wasafiri, the launch of the Kenya and now Rwanda Food Fellowship shows our continued contribution to ongoing systemic efforts to change the narrative around African Leadership within food systems. We also keep advancing our aim to help deliver the progress promised in the 2014 Malabo Declaration, which aims to end hunger on the continent by 2025 and to promote intra-Africa food exchange through the continental free trade area.
Have a peek at the photos of our graduated Fellows and follow us on our social media pages to keep up with what's next for the Fellows and other Fellowship-related news.
The food systems leadership programme is a 10-month flagship programme of the African Food Fellowship, an initiative facilitated by the Wageningen University & Research and Wasafiri Consulting & Institute, with support from IKEA Foundation.
Connect with Africa Food Fellowship
http://wasafirihub.com/wp-content/uploads/2022/10/suad-kamardeen-pn2-F5lKM-U-unsplash.jpg
1280
1920
Stella Odhiambo
http://u05.88f.myftpupload.com/wp-content/uploads/2018/08/Wasafiri-LOGO-1.png
Stella Odhiambo
2022-10-07 14:23:59
2022-10-07 19:46:09
Wasafiri empowering food systems transformation leaders in Rwanda