Creating change: Aisha Adan's journey towards inclusion and peacebuilding
Wasafiri's new Peace and Inclusion Senior Manager has many passions and talents. Read more about her journey to where she is today, and her future plans.
As a programme management, evaluation, and research specialist with over ten years of experience working on governance, countering violent extremism (CVE), cross-border resilience, peacebuilding, and youth empowerment programmes across the Horn and East Africa, Aisha Adan is a champion of inclusive development.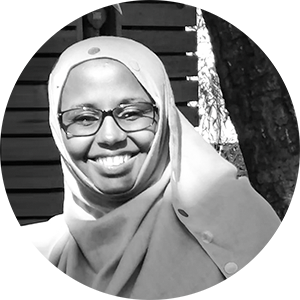 Born and raised in Mombasa, Kenya, Aisha has fond memories of her childhood. Her closest sibling describes her as responsible, empathetic, and dependable.
A pleased Aisha says she was blessed with supportive and loving parents who instilled in her strong values of hard work, education, and community service.
Despite the tragic loss of her father at a young age, and her mother before she graduated from University, Aisha remained resilient and focused on her aspirations, driven by her mother's unwavering support and guidance before she passed away.
Aisha's passion for community led her to study Environmental Studies at university, with a major in community development and a specialisation in Peace and Security at master's level. She furthered her education in Nairobi, which exposed her to opportunities to work for NGOs and start her career in conflict and peacebuilding.
"My greatest challenge working on countering violent extremism was the evolving and dynamic nature of the complex problem. In this line of work, adaptability and learning as you go is paramount", she says.
One of Aisha's most meaningful professional achievements was leading the Vijana Kazini initiative, a platform for creating greater inclusivity for at-risk youth (Opportunity Youth) to access livelihood opportunities. Through her leadership and advocacy, she was able to help transition ownership of this initiative from a donor-funded programme to the Ministry of Youth Affairs, which has now initiated follow-on activities in support of Vijana Kazini with county and national government resources.
Aisha's new role gives her the chance to build on this success. She will lead the implementation of impactful and systemic projects, and bring together stakeholders from local communities, governments and the private sector to generate cross-sectoral collaboration to realise development goals in different contexts.
One of Aisha's key strengths is her ability to connect with people on a personal level. She has a genuine interest in the lives and experiences of those around her, and this makes her an excellent listener and communicator.
For her, the inclusion of all people is fundamental for communities, organisations, businesses, and networks to grow and develop in a way that allows societies to be at peace and thrive.
"Socio-economic exclusion and feelings of marginalisation and hopelessness among communities in the Coast where I was born and bred, and Northern parts of Kenya where my roots are, encouraged me to study and specialise in this line of work."
Aisha looks forward to the challenges and opportunities ahead. She anticipates systemic challenges becoming a barrier to inclusion, but she plans to use Systemcraft to help leaders make positive change happen.
Outside work, Aisha enjoys spending time with family and friends. Her passion for contributing to a more inclusive and peaceful society is her motivation to come to work every day, and working with a supportive team keeps helps. Taking time off every now and again is how she keeps balance in her life.
With her eyes on the future, Aisha's long-term career goal is to become a system change specialist, supporting leaders and organisations to address conflicts in fragile and conflict-affected contexts globally.
Overall, Aisha's passion for creating a more inclusive and peaceful society is evident in everything she does. We wish her all the best in her future as she takes on this new role.
What was your favourite subject in school growing up?
Islamic religious education (IRE)
What would people be surprised to know about you?
I fear cats and dogs.
What do you want to do before you die?
I hope I will travel to Mecca and perform pilgrimage/Hajj.
Favourite book?
Holy Quran
Favourite song?
Give thanks by Nasheed
Read a recently published article where Aisha explores the challenges faced by Somali refugees and Kenyan-Somalis in Mombasa, Kenya as they navigate their ambiguous identities and access privileges.
https://wasafirihub.com/wp-content/uploads/2023/05/wasafiri-group.jpg
1125
1500
Stella Odhiambo
http://u05.88f.myftpupload.com/wp-content/uploads/2018/08/Wasafiri-LOGO-1.png
Stella Odhiambo
2023-05-11 09:51:58
2023-05-14 22:21:20
Creating change: Aisha Adan's journey towards inclusion and peacebuilding